For years — maybe decades — management viewed IT as primarily a cost center. A necessary evil, at an often heavy expense, to enable the rest of the company to simply function. Given that prevalent mindset, most business leaders strove to keep IT budgets down as much as possible. The thinking went that if it wasn't actively improving sales or bottom line results, then any money spent on IT budgets ate into profit margins.
That mindset appears to be on the way out… and for good reason.
IT Budgets grow despite economic uncertainty
According to a recent report released by Avasant, "more companies are planning IT budget increases than at any time in the cloud era." This all happening in the wake of a global pandemic, an unprecedented recession (even if it ended up being shorter lived than anticipated), supply chain disruptions, a war in Ukraine, and now, sharp, sustained inflation.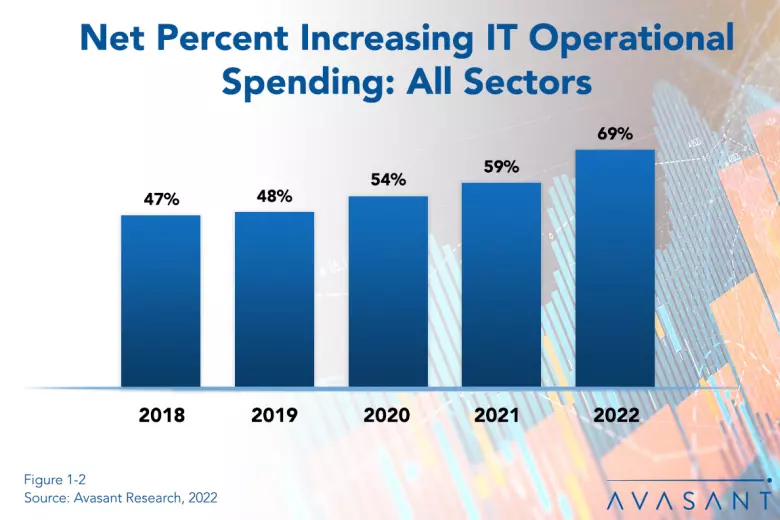 So how did we go from a mindset of IT as cost center to IT as budget priority?
A change in perspective = a change in priorities
Partly because of the pandemic, and partly just the natural evolution of business operations, companies stopped thinking of IT simply as a necessary evil. They started looking at their tech stacks as innovation opportunities that could impact both top and bottom line earnings.
Evidence of this transformation: "in 2019, at the median, companies spent 75% of IT budgets on running the business and only 25% on growing or transforming the business. This year, at the median, the percentage of the budget spent on running the existing business is only 65%. A full 35% is dedicated to growing or transforming the business."
Forward-thinking business leaders realize they can harness technology and their IT departments to not only run their business, but rather to improve and transform those businesses into stronger players in their respective markets.
A senior researcher at Avasant put a finer point on it: "The pandemic gave IT organizations a chance to prove their value," said David Wagner, senior research director. "They enabled entire enterprises to work from home. They rebuilt companies around new digital business plans. The trust they earned is paying off so that despite signs of an impending recession, budgets are still increasing."
The change in mindset means that more companies than ever before are asking their CIOs to focus more on improving service than on cutting costs.
So how do you empower your IT department to help transform your company into a more fearsome competitor?
Most of the professionals Avasant surveyed seem to be CIOs or technology leaders of larger companies with dedicated departments under their management. But what if you're a small or medium-sized business without a large internal IT team?
That's when partnering with a managed service provider like Leverage can be your silver bullet.
We work with hundreds of clients and partners to provide the IT infrastructure and guidance necessary to compete and win in their respective markets. Whether it's protecting themselves from cybersecurity threats, managing servers, networks and automatic backups, to building out the entire tech stack of organizations, we empower smaller companies to compete like large ones. We're the IT experts you need to not only run your business, but transform it.
If this sounds like something that might benefit you and your business, give us a shout — we'd love to talk shop any time.